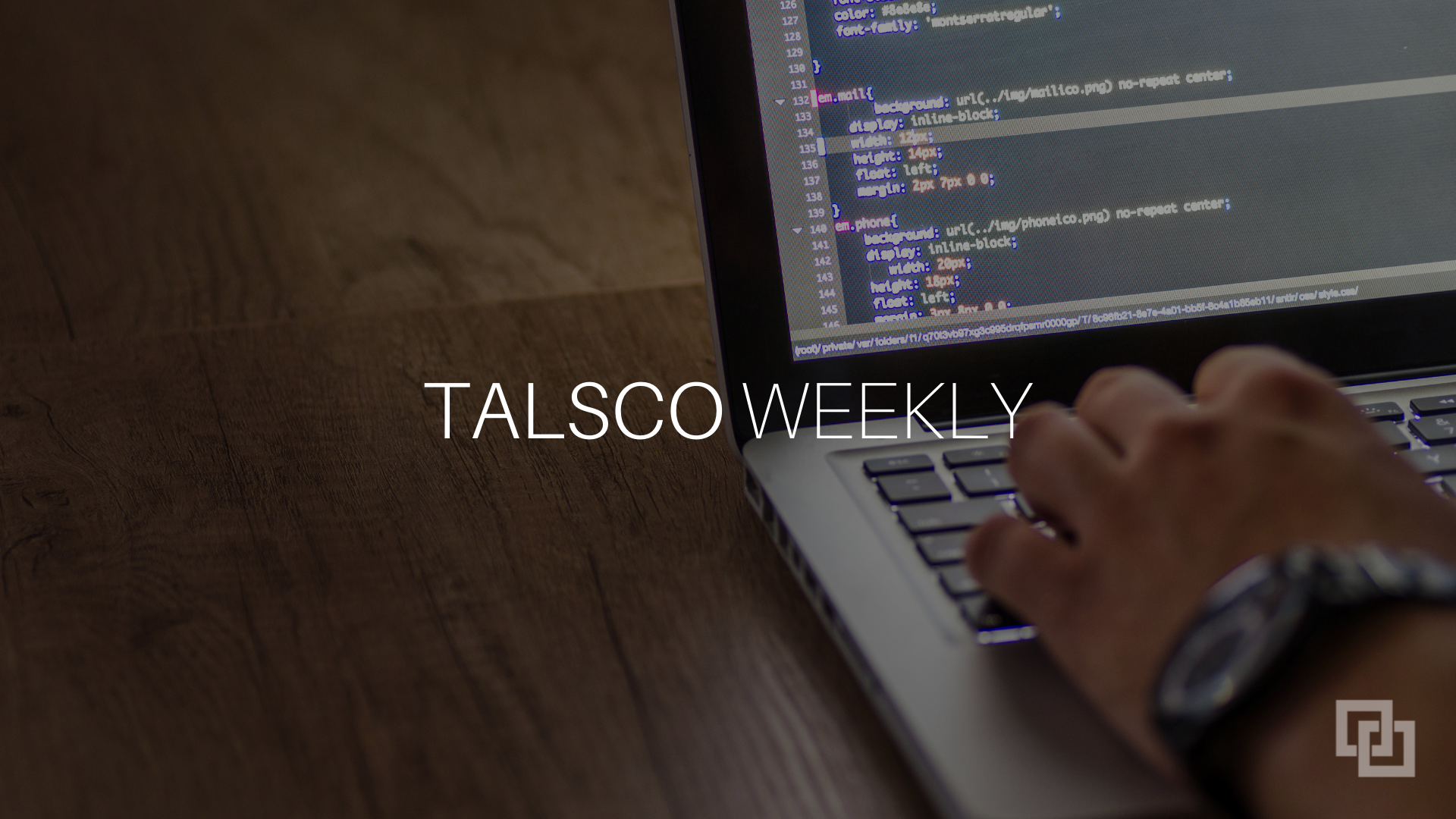 ---
Welcome to another edition of Talsco Weekly
---
News
Supply chain disruption will persist in 2022, but tech may help
"The supply chain problems of the last two years will persist into 2022, but companies can use the opportunity to redesign processes and update technology to solve long-term issues." Supply chain disruptions are common, however, we have seen unprecedented disruptions in 2021.
Experts believe that supply chain disruptions will continue into 2022, though through the use of digital technologies and analytics many of the long standing issues can be corrected.
---
Trends
Enterprise Tech 2022: What's Ahead for IT
There is one trend prediction that sticks out to me in this article. It's something that in the past has been frowned upon and has often caused problems for IT. It has been commonly referred to as "Shadow IT," but is now being seen as an advantage for businesses.
The future trend: more tech spending is moving out of IT.
"Enterprise technology spending is going up, but CIOs and IT leaders will have less of the budget to spend. Business units themselves are playing an increasing role in tech spending."
---
Learning
No College Degree? Try One of These 5 Major Company's Apprenticeship Programs To Get Your Foot in the Door
The IBM i community is not the only one that is concerned about retiring developers. Due to a global talent crunch "some of the biggest companies in the world offer imaginative and exciting apprenticeship opportunities."
The idea of an Apprenticeship Program is something we have promoted for a number of years in Talsco Weekly.
To implement, follow these two easy steps:
Next, either build a training program yourself, much like the big tech companies have done, or plug into a proven online RPG Apprenticeship program, like the one Jim Buck has created at imPower Technologies.
---
Digital Transformation
Top 10 digital transformation articles of 2021
The rush to allow remote work has charted a new path for IT departments is an interesting observation.
"After accelerating their digital transformation efforts to get their workforce up and running remotely, leaders quickly found their hard work rewarded with more hard work: Namely, transforming the customer and employee experiences, ramping up security efforts, and sustaining the breakneck pace of digital acceleration without burning out their talent."
In many respects, this has pushed leaders in the IBM i space to do more than they thought possible.
In light of this, out of the 10 digital transformation articles, I find the three below to be the most relevant for the IBM i community.
Dig into the articles here and notice most of what's discussed isn't about technology but rather about the approach, mindset and the leadership needed to execute successful modernization and transformation initiatives.
Digital transformation: 4 tips to speed your progress
"Organizations should be examining all aspects of their operations for opportunities to enact digital change that can unlock benefits for employees and deliver valuable interactions and experiences for their customers."
Tips
Embrace Digital Transformation tools the right way
Mobile-first or mobile only
Treat employees as partners
Implement an employee-first mindset
As this article points out, Digital Transformation involves more than just technology. It's really about a mindset and framework that incorporates the use of technology.
---
Development
Top Choices for Programming Languages for Web Development
"Are you wondering what the best programming languages for web development are?"
It does not come as a surprise that Javascript, Python and PHP are top of the list.
So, which one is best for IBM i developers? We have seen all three prove to be very valuable in giving you an edge to landing a new job where it calls for any one of the three.
However, the real value is not necessarily in which language you pick, but rather in developing the skill of how to learn a new language.
---
Join
Sign up for Talsco Weekly to get the latest news, insight and job openings for the IBM i professional.
---
Contact us
If you are an RPG programmer looking to explore opportunities or a client who is looking for a talented IBM i professional, please contact us. We look forward to assisting you.
---
Share
Do you know of someone who could benefit from Talsco Weekly? If so, please use the social media buttons to spread the word. Thank you!