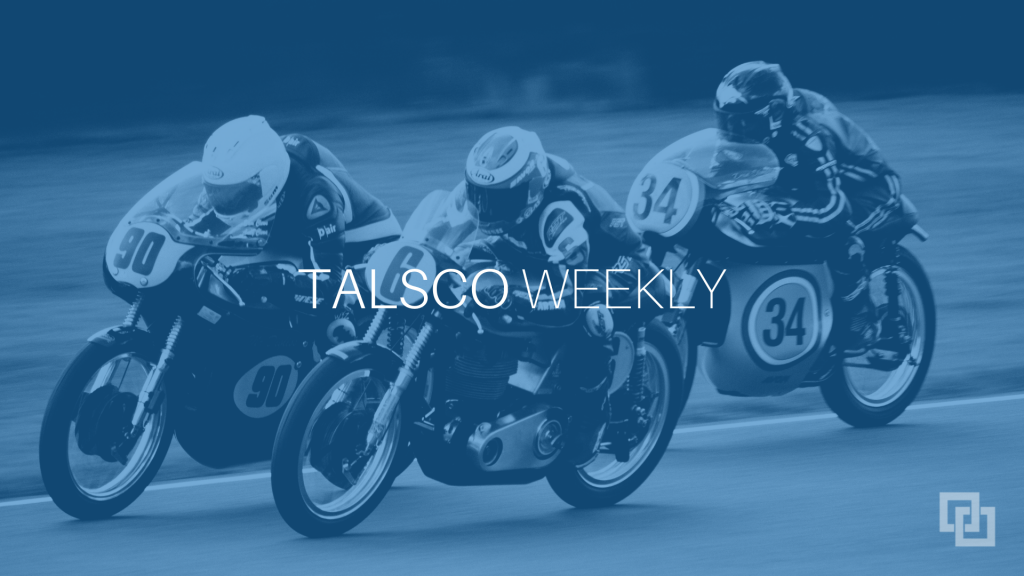 ---
An RPG Developer Starts a New Habit
I spoke to an RPG Developer the other day. He spent his entire career working with RPG fixed format and SEU.
The last several months he was given the opportunity to work with RPG free form and RDi.  He made a point to use both of them daily.  The result:
He loves it.
He said, "It's not difficult. It's easier than I thought. And I am much more productive."
A simple shift in thinking.
So, what are you waiting for?
---
Welcome to another edition of Talsco Weekly.
News:  IBM i market is on the move.  IBM and Quantum Computing.
Learning:  The Apprenticeship Model for RPG Developers.  It's not just for us.
Modernization:  Digital Transformation is more than technology.  How does Legacy Software fit into the future.
Open Source:  Build a Python project.
Security: A beginners guide to GDPR.  Data breach disclosures jump.
Trends:  Economic summit discusses the future of technology.
---
News
IBM i Marketplace Acquisitions
There has been a lot of movement in the tech industry in general.  This article covers some "under-the-radar deals in the midrange that you may have missed."  It's again a sign that the IBM i (AS/400) market is on the move.
IBM Introduces 'Quantum Volume' to Track Progress Towards the Quantum Age
If you are interested in Quantum Computing here is an article that let you know what IBM is up to and what we can expect in the future.  One thing is for sure is that building a useful quantum computer has its challenges.
---
Learning
On the job training is becoming the new college degree
IBM and Google are hiring applicants without a college degree.  What does this tell you?  There is a shift towards the apprenticeship model.
Apprenticeships are not new.  The trades are built on this education model because it works.
Why does it work?  Because most people would prefer to learn by actively doing something rather than by passively hearing it.  As the article points out, we only remember 10% of what we read but 90% of what we participate in.
Once again this makes the case for organizations to adopt the Apprenticeship Model by teaching and training their own RPG Developers.
Training a Programmer in 6 Months
Fullstack Academy is just another example of the shift that is taking place in the IT training market.  The common theme in the various models is hands-on work working along side a mentor.
---
Modernization
Digital Transformation Is Not About Technology
Like modernization projects, digital transformation projects suffer from the same problem.  People.
If the organization, lacks "the right mindset to change and the current organizational practices are flawed, DT will simply magnify those flaws."
Interesting.  The same holds true for IT modernization.
Here are five "key lessons have helped" lead organizations through digital transformations that have succeeded."  They can equally be applied to AS/400 Modernization.
Where does Legacy Software Fit In The Digital Workplace?
This is an interesting article of what we are up against.
Employee expectations are set by the likes of Apple and Google.
It's true.  But, also only part of the problem.
The article dives into the evolution of technology (how it is used) and the differences between Systems of Record and Systems of Engagement.
---
Open Source
Build An Open Source Python Project
If you are interested in Python, here might be a good place to start.  As the article points out, "Every software developer and data scientist should go through the exercise of making a package. You'll learn so much along the way."  And it is not as difficult as you might think.
---
Security
Beginners Guide to GDPR Compliance in 2019
If you are not familiar with GDPR, you should be.  It stands for General Data Protection Regulation and it relates to Data Privacy.  The link above is a straightforward guide to what it is and how it applies to you and your organization.
Data Breach Disclosures by UK Banks Jump 480% in 2018, Financial Regulator Says
"In 2018, companies struggled to mitigate large-scale attacks and data breaches, but apparently too little action has been taken to improve defenses in 2019. Businesses are trying to be proactive. They have increased cybersecurity budgets and invested in resources, including in qualified IT staff."
---
Trends
Overview of the Economist Innovation Summit
"Chicago last week, entrepreneurs, thought leaders, policymakers, and academics shared their insights on the current state of exponential technologies, and the steps companies and individuals should be taking to ensure a tech-positive future. Here's their expert take on the tech and trends shaping the future."
---
Join
Sign up for Talsco Weekly to get the latest news, insight and job openings for the IBM i professional.
---
Contact us
If you are an RPG programmer looking to explore opportunities or a client who is looking for a talented IBM i professional, please contact us. We look forward to assisting you.
---
Share
Do you know of someone who could benefit from Talsco Weekly? If so, please use the social media buttons to spread the word. Thank you!