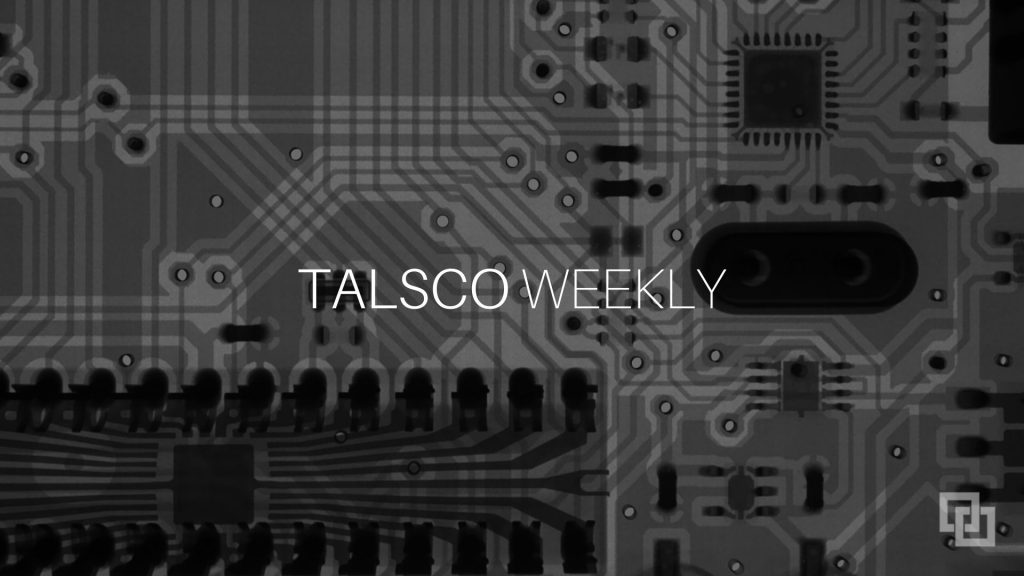 ---
Welcome to another edition of Talsco Weekly
News:  Tech Policy & Rules for AI.  Google Cloud and the IBM i.
Career:  Is your career in jeopardy?
Blockchain:  2020 might be the breakthrough year for Blockchain
Development:  PHP Users conference.  A new RDi resource from IBM for the RPG developer.
ERP:  Emotional support for your ERP project.  Are you ready for the cloud?
IoT:  Node-RED a low-code solution for your IoT projects.  TJBot will help you get started with IoT.
Trends:  Quantum Computing and Smart Technologies are here.
---
News
The Next Frontier in Tech Policy, IBM looks to establish rules for AI
With AI being what some call the next frontier of technology.  IBM proposes tech policies, to bring about AI solutions that we trust.
IBM called for rules aimed at eliminating bias in artificial intelligence to ease concerns.
If you think about it, AI is only as reliable as the data you put in.
Question: What should tech companies' role be in shaping AI?   What should the governments' role be?
IBM with Watson OpenScale aims to bring trust to AI for the enterprise.
Google brings IBM i to the Cloud
It's finally (almost) here.  Google Cloud announced it's new IaaS offering that allows customers to run AIX, Linux, and IBM i workloads.
There are many options for IBM i customers to leverage the public cloud if they want to.  Microsoft Azure, IBM Cloud, Skytap and now Google Cloud.
What does all this talk of the cloud mean?  It depends on your perspective.   Some are nervous.  Some are excited.  Some are unsure.   What does it mean to you?
IBM is one of Top 10 Digital Disruptors in the US
Digital disruption is "that leverage artificial intelligence (AI), cloud and edge technologies."
---
Career
Four Signs Your Job Is In Jeopardy
Have you heard this story before:
he "had a six-year track record of success directing and implementing his group's strategy, and he had successfully grown his division's revenues by 50% since joining the organization."
Then he was let go.
Even when things are going well, it is important to step back and take a good look at your surroundings so you are not caught off guard.  This article walks you through some of the warning signs.
---
Blockchain
IBM launches blockchain-based app to track coffee supply chain
Will 2020 be a breakthrough year for Blockchain?
We are starting to see more and more applications out there. It's not just for currency.   It can be used for almost anything where you want to simplify the exchange and track information.  Here is an example where IBM Blockchain tech is used to track the coffee as it moves through the supply chain.
The promise of Blockchain, is there are no middlemen.  Only the buyer and the seller.  It's in a sense, it's unhackable.  That is a huge competitive advantage.  Check out some of the uses for blockchain.
---
Development
Midwest PHP Developer Conference 2020
Whether you are a novice or a seasoned PHP Developer you might want to attend this year's Midwest PHP Developers conference in Minneapolis, MN on April 2-4.  It's a three-day conference with over 60 different sessions.
RPGPGM.com has turned up a new web portal for RDi on IBM's support website.  All your RDi needs in one place.
---
ERP
Do you need ERP Grief Counseling?
ERP projects are destined to fail from the start without executive buy-in from the start all the way through post-implementation support.
We have seen this time and time again.
It never ceases to amaze me how many ERP implementations go wrong.  So, whether you are undertaking your first ERP project or upgrading a legacy system "here is an eight-step program that will help you along the way."
Many enterprises are finding that ERP Systems will look very different in the future.
Is Your Older ERP Platform Ready for the Cloud?
Cloud ERP has been around for longer than you think although it is becoming more mainstream. The question seems to be is your current ERP ready for the cloud or not?  We have seen VAI? statistics on the number of their ERP customers who have vowed to move to the cloud version of their software. While there are advantages, not everyone is ready to let go of all the company data. Where do you start?
---
IoT
Node-RED Low Code Solution for IoT
For IBM i shops who are looking to drive results through IoT "Node-RED is a programming tool for wiring together hardware devices, APIs and online services in new and interesting ways."  Want to deploy to 1000's of IoT devices?  You can do it with Node-RED.
This all comes out of Watson.  So if you are looking for more insight as to how this will be done, check out this short video with "IBM Watson IoT Developer Advocate, Nick O'Leary".  It dives into why you would want to use a low-code solution like this vs developing this on your own.
Here is a Node-RED programming guide.
IoT Connecting the Physical and the Logical world
What is IoT?  It's about connecting things to the internet.  IBM Research has developed "TJBot, a do-it-yourself template to learn, experiment with and explore AI using IBM Watson services" that will help you get started.
Watch this inspiring video where an IBM expert and a young (I mean really young) future IoT leader explain how to get started with IoT.
---
Trends
IBM's Quantum-Computing Service Tops 100 Customers
Although we are a little way away from Quantum computing becoming mainstream IBM said that "more than 100 organizations are using its quantum-computing services, including businesses, universities, and government research facilities." It's no longer just an experiment.
Example:  IBM and Daimler teaming up for a quantum leap in battery tech.
One of the areas that Quantum computing is being used is in battery technology. It's not hard to see the future here. Battery technology is getting better and better. We most commonly associate battery tech with electronics and more recently EV but what about micro-grids?
Smart Technology Has Reached The Tipping Point
"After less than a decade as a commercial proposition, the smart home has already passed the tipping point".
This is good news for IBM i (AS/400, iSeries) organizations that participate in any one of these industries.  The home automation and HVAC market is big. Revenue in the Smart Home market amounts to US$27,649m in 2020.
Five Smart Applications That Will Change The Way You Live and Work
"By integrating edge devices, wireless connectivity, and cloud APIs into a single platform, new solutions on the rise will address the complexities that have slowed the deployment of industrial IoT applications."
What is Edge Computing?  Edge computing removes the workload of an application from having to be done in a data center.  Here are some examples of edge computing applications.
Autonomous cars
Gaming As A Service
Smart Agriculture
Smart Cities
Smart Healthcare
More on Edge Computing.
---
Join
Sign up for Talsco Weekly to get the latest news, insight and job openings for the IBM i professional.
---
Contact us
If you are an RPG programmer looking to explore opportunities or a client who is looking for a talented IBM i professional, please contact us. We look forward to assisting you.
---
Share
Do you know of someone who could benefit from Talsco Weekly? If so, please use the social media buttons to spread the word. Thank you!