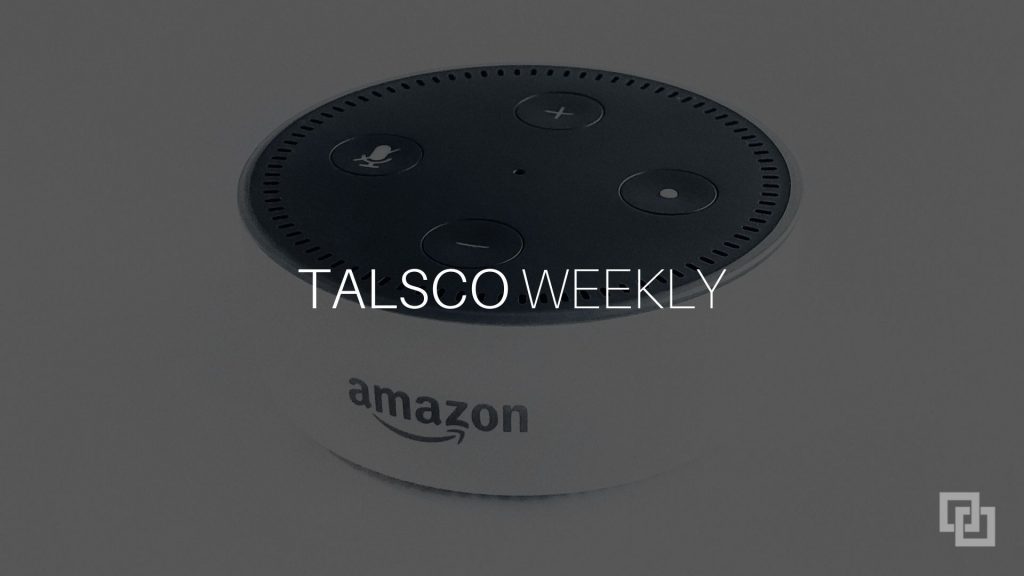 ---
Welcome to another edition of Talsco Weekly.
News: Would Amazon ever buy IBM? Should have IBM purchased Amazon in 2007?
Career: What does a good resume look like? A shift is taking place: CIOs are uniquely positioned to become CEOs.
ERP: VAI ERP solution is posting double-digit growth.
Modernization: Does your company strangle innovation? Application Modernization Services.
Open source: Red Hat will help spur innovation. 10 years of Open-source on the IBM i, where are you today?
Trends: 5G, AI and IoT in the customer journey.
---
News
"So why should Amazon buy IBM?" It is not as far fetched as you think.
For Amazon, a move to purchase IBM would give them "perhaps the most robust AI platform in the industry". Watson would bring a big improvement to Amazon's version of "ML as a service" offering. Watson has been focused on solving problems in the enterprise. This would help Amazon offer more than AWS to the enterprise.
For IBM, it might help gain more market share in the cloud market and give Watson the opportunity to extend its reach.
Looking back: IBM's move to acquire Red Hat was smart because it helps generate significant revenue. At the same time, this purchase was thought by industry insiders to help them catch Amazon.
We will just have to wait to see if this really happens. At this point, it's just an idea.
Back in 2007, this was the headline. Some were advising for IBM to acquire Amazon.
How different would things look today? Back then IBM was worth $110B to Amazons $25B. Today IBM is worth $125 to Amazons $1T.
IBM to buy Red Hat to stave off Amazon, Google, Microsoft
Here is last years headline. Maybe this was all part of the plan all along. IBM's acquisition of Red Hat might just make them attractive to Amazon.
Interesting to think about.
---
Career
What Does A Good Resume Look Like?
"While there is nothing wrong with resumes, there is growing sentiment that it's an outdated way to represent the skills and talents of a potential employee."
Remember, you are there to interview your potential employer just as much as they are there to interview you.
It is important to do your homework before the interview.
Read up on everything you can about the company. From there you will be able to ask insightful questions that will both demonstrate your ability to ask questions that matter as well as tell you more about how they run their IT department, what they think about the future of the IBM i platform.
Ask them what are your thoughts about open source development on the IBM i? Do you develop in RPG free form and use RDi?
RPG Consultants
Are you an RPG Developer looking for your next assignment? Call us to learn how we can help.
Everything is up for disruption: Why MuleSoft's founder thinks the digital revolution could lead more CIOs to become CEOs
Are you an IBM i developer with aspirations to become CEO someday?
Digital disruption is all around us. We have long waited for IT to have a seat at the table. The time is now.
We all know that it takes a special kind of person to lead.
CIO's today are in a unique position to drive technological innovation. A key element of this is being able to see how to leverage technology.
To be a forward-thinking organization, CIO's should have a seat on the executive board. IT is no longer just about back-end systems or systems of record.
---
ERP
VAI and their Cloud ERP Update
Poor growth "may not be the best words to describe the market for IBM i-based ERP software these days. But don't tell that to the folks at VAI, who continue to develop compelling ERP software and grow its installed base."
Joe Scioscia, VP of Sales for VAI is quoted in this article that:
70 percent, maybe even 80 percent, of upgrades are going in the cloud, and I would say 90 percent of new business is in the cloud.
These are good stats for the VAI crowd. Part of the reason for this is the UX is where it needs to be to compete with other solutions. Here are five technology solutions every business should have that have been incorporated into VAI 6.1.
It's apparent that all is going very well for VAI.
---
Modernization
How Companies Strangle Innovation
Innovation isn't a single activity; it is a process from start to deployment.
Building a culture of innovation is not easy. We are in a period of time where companies, in most industries, have to innovate to stay ahead of their competition. Unfortunately, the old way of doing things will strangle innovation even if you have new technology.
Application Modernization Services Market Industry Analysis Analysis 2017-2025
The application modernization services market is shifting from one-size-fits-all cloud platforms to custom-made solutions for enterprises.
The presence of legacy systems, largely characterized by hyperscale cloud, hinders the modernizing of application functionalities for enterprises. This calls for solutions that will do away with unnecessary complexity for migrating to modern IT workloads on cloud.
12 dark secrets of technical debt
Keep the following statement in mind when you develop:
Those freewheeling, unencumbered days are long gone for most of us. Much of software development today is revising, extending, enhancing, and evolving what we — or more often, someone else — did before. Enter technical debt.
---
Open Source
Red Hat CEO Says Acquisition by IBM Will Help Spur More Open-Source Innovation
For some time now we have seen an increase in open-source development on the IBM i. I would be interested to hear from the community here.
Have you seen an increase in open source development in your IBM i shop?
Open Source Is the Future, So Where Does IBM i Fit In?
It was about 10 years ago that the open-source movement officially got its start on the IBM i.
Open Mainframe Project Gains Momentum
The mainframe community is also pushing open source.
The Linux Foundation, the Open Mainframe Project is comprised of more than 30 business and academic organizations that collaborate on vendor-neutral open source project with the mission of building community and adoption of open source on the mainframe.
I believe the IBM i community, it is going to look very different in the next 10 years. We will see much more development in languages that compliment RPG applications.
---
Trends
How 5G Will Revolutionize the Manufacturing Sector: The Main Applications
5G will be a game-changer for manufactures. IoT connects digital sensors that send data back and forth and ultimately to business systems.
AI in the IoT customer journey enriches the experience
The rise of automation, AI and machine learning is beginning to disrupt the customer journey in ways that give organizations new opportunities for engaging consumers and prospects.
In fact, IBM feels that AI will fundamentally change how we look at the customer experience. Thus understanding how AI is deployed in IoT is essential to help organizations digitally transform.
---
Join
Sign up for Talsco Weekly to get the latest news, insight and job openings for the IBM i professional.
---
Contact us
If you are an RPG programmer looking to explore opportunities or a client who is looking for a talented IBM i professional, please contact us. We look forward to assisting you.
---
Share
Do you know of someone who could benefit from Talsco Weekly? If so, please use the social media buttons to spread the word. Thank you!