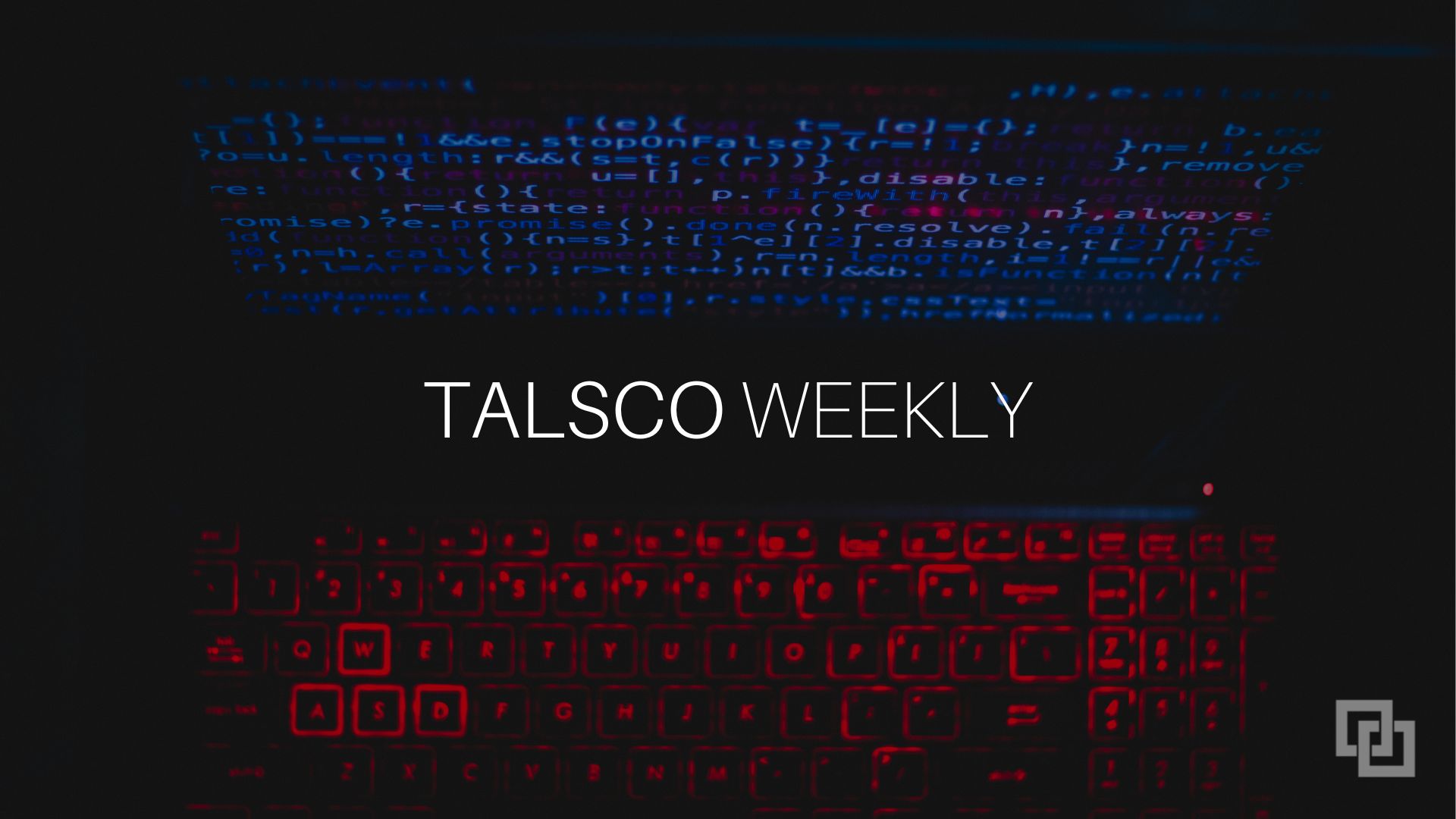 ---
Welcome to another edition of Talsco Weekly
---
News
If there has been one constant in the IBM i world, it has been ITJungle. When the AS/400 was first introduced in 1988, there naturally needed to be a publication that helped keep the community up to date, thus, "The Four Hundred" was born.
The newsletter was started in 1989 by Timothy Prickett Morgan, who is now the editor-in-chief of ITJungle. The newsletter focused on news and analysis related to the AS/400 and its successor systems, and it quickly became a popular source of information for the IBM midrange community. Over time, the newsletter evolved into ITJungle, which continues to provide news and analysis for the IBM i community today.
For the rest of the story, head on over to "Timothy Prickett Morgan's own walk down memory lane."
Walking down memory lane with the IBM i
"You may have heard that the IBM midrange platform is turning 35 this year."
The AS/400's launch day was June 21, 1988, at Rochester, Minnesota.
If you would like a walk down memory lane, the "IBM execs gave us a sneak peak of the festivities to come at this week's POWERUp show in Denver, as well as a technical look back at exactly how we got here."
---
AI
What is Chat GPT and why should you care?
AI (Artificial Intelligence) and ML (Machine Learning) have been around for a long time; however, it has remained on the sidelines, until now.
OpenAI & ChatGPT is getting mass adoption.
OpenAI produces cutting-edge research and development in the field of artificial intelligence, including advanced language models, robotics, and machine learning algorithms. They also develop software tools and platforms (ChatGPT & DALL-E2) that enable developers and researchers to build and deploy AI applications.
ChatGPT is their flagship product that has become the "fastest-growing app of all time."
Let that sink in – the fastest-growing app of all time.
Let's compare it to other technological innovations.
Speed to Acquire 100M Users
Telephone: 75 years to reach 100 million users
Mobile phones: 16 years to reach 100 million users
World Wide Web: 7 years to gain 100 million users
Twitter: 5 years to reach 100 million users
WhatsApp: 3.5 years to reach 100 million users
Instagram: 2.5 years to reach 100 million users
TikTok: 9 months to gain 100 million users
ChatGPT: 2 months to gain 100 million users
Source: LinkedIn
So, what do ChatGPT and the IBM i have in COMMON?
At first glance, you might not think much, but if you are attending COMMON's POWERUp 2023 conference in Denver, you might notice a handful of sessions focused on how to use ChatGPT in an IBM i environment.
ChatGPT Session Overview:
How AI/ML Drive the Future of IBM i Modernization:
There is a "buzz around ChatGPT, a new chatbot developed by OpenAI. The capabilities of artificial intelligence and machine learning (AI/ML) are being democratized, and their insights and guidance are no longer exclusively available for data scientists. "While the breadth and depth are unclear, it is certain they will have an impact for years to come."
ChatGPT Coming for RDi:
"Join Wim Jongman and the Remain Software team as they reveal the power of ChatGPT, customized for IBMi Admins and Developers. In this captivating session, learn how ChatGPT can enhance your work, from crafting SQL instructions to decoding legacy code. Additionally, gain exclusive access to a free ChatGPT client, seamlessly integrated with RDi."
What is Open AI?
"We'll explore (speculate) on its impact on education, finance, and, most assuredly, information technology." We'll wrap up with a live demo of the Copilot application and how it might add productivity to the typical IBm i shop".
It is hard to tell what impact ChatGPT will have on the IBM i ecosystem. What we do know is that it will have an impact on the "future of software development."
---
Digital
Enterprise Software is Legacy and the Impact of AI on Jobs
Here is a thought-provoking article that will get you thinking about enterprise software (or ERP) and the future of AI on jobs.
Is enterprise software on its last leg?
If anything, it is evolving much like every sector of the technology market.
Will it eliminate jobs?
I'm not so sure about that. It will certainly change how we do them.
Read this short article that "provokes us to rethink enterprise software."
---
Modernization
Refactor legacy code with AWS Blu Insights
"According to Reuters , there are 220 billion lines of code in customers' production environments running Cobol and other legacy languages. Customers are looking to modernize their mainframe-based applications to take advantage of the AWS Cloud."
What is AWS Blu Insights?
AWS Blu Age is a cloud-based migration tool that helps organizations modernize their legacy applications and migrate them to the cloud. It is designed to simplify the process of moving applications to the cloud by automating many of the tasks involved in the migration process.
"It can convert languages like COBOL, PL/1, NATURAL, RPG/400, and COBOL/400 into agile Java services and web frameworks."
AWS Blu Age uses a combination of automated analysis and manual review to deal with undocumented RPG code, and therein lies the challenge: "dealing with undocumented code."
When it comes to modernization, it does not matter what tool you use, simply knowing how to deal with undocumented code will be one of the most critical aspects of your modernization endeavor.
Things to keep in mind when you are modernizing undocumented code:
Understand the business logic: Undocumented code can be difficult to understand, so it's important to take the time to understand the business logic behind the code. This involves reviewing the code and talking to stakeholders to understand how the application works and what it's supposed to do.
Identify dependencies: Undocumented code may have hidden dependencies that are not immediately apparent. It's important to identify these dependencies and understand how they impact the application.
Use modern tools and techniques: When modernizing undocumented code, it's important to use modern tools and techniques that can help you understand the code and make changes more efficiently.
Key takeaway: When it comes to modernization, there is no silver bullet.
---
Join
Sign up for Talsco Weekly to get the latest news, insight and job openings for the IBM i professional.
---
Contact us
If you are an RPG programmer looking to explore opportunities or a client who is looking for a talented IBM i professional, please contact us. We look forward to assisting you.
---
Share
Do you know of someone who could benefit from Talsco Weekly? If so, please use the social media buttons to spread the word. Thank you!