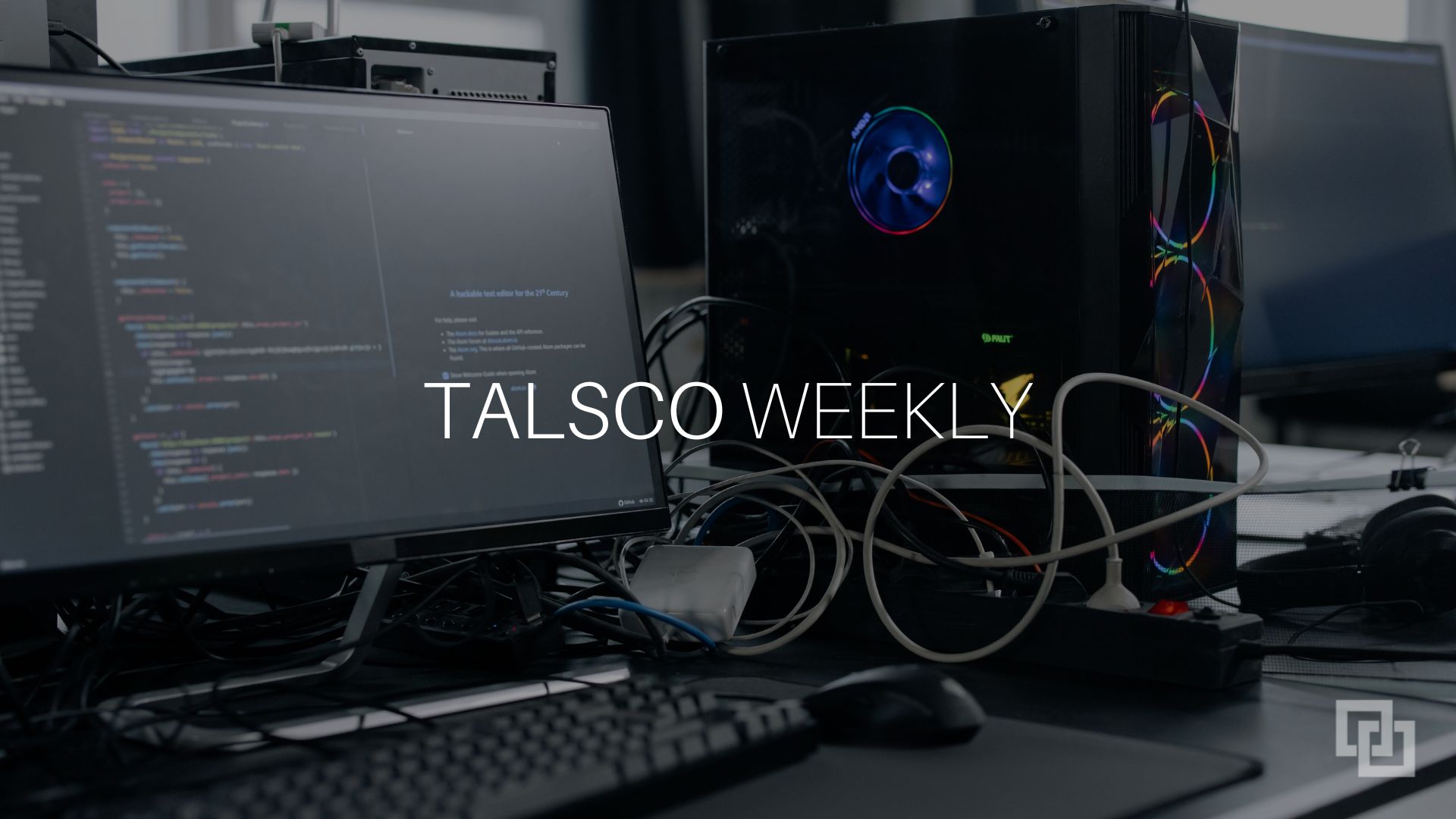 ---
Welcome to another edition of Talsco Weekly
---
News
What are the benefits of Power10?
The key benefits of Power10 are:
Enhanced Security: "Power10 includes 4 Crypto engines per core, providing hardware acceleration to encryption operations."
IBM i Performance: "IBM have continued to make significant progress with every generation on per core performance." "Compared to POWER9, Power10 can provide up to 88% improvement per core and compared to POWER8, up to 163% per core."
Energy Efficiency: "IBM have targeted a reduction in the region of 33% in power and cooling cost."
Summary:
"The market reception of Power10 so far has been fantastic. The performance and capability of Power10 are great tools to help clients fulfil their business objectives around improved flexibility and security."
---
Development
Low-code development becoming a business skill
"Finding workers with software development skills, or training them in-house, is becoming a priority" for all companies, including those who leverage the IBM i platform.
"What makes citizen development possible is a raft of low-code and no-code development platforms, which enable business users with little to no coding experience to develop apps based on business needs. Companies are leveraging these platforms to create "hundreds or thousands of citizen developers in their organizations.""
Here is a good low-code option for the IBM i.
Low code is on the rise.
"In 2021, the global market for low-code development technology hit $13.8 billion in revenue. And the adoption of low-code software development platforms is growing by more than 20% a year."
Merlin Development Framework Now Supports IBM i 7.3
IBM "has decided to support IBM i version 7.3 with Merlin, the new application development framework that was introduced in May as part of the IBM i 7.5 launch."
Merlin enables "IBM i developers to create new ILE programs from scratch or to modernize existing ones. The software, which is officially called Modernization Engine for Lifecycle Integration, is based on a mix of open source and proprietary tools from IBM, Red Hat, and ARCAD Software that are packaged up to run on the Power server via Red Hat OpenShift containers and accessed through a Web browser."
Key Article Highlights:
Merlin is "a lightweight, browser-based integrated development environment (IDE), Merlin will provide an alternative to Rational Developer for i (RDi)."
"IBM hopes to use Merlin as a springboard to not only reach new users, but also to help them begin developing modern applications using modern methods."
The benefits of "enabling modernization via Merlin was just too great to exclude the bulk of the user base on IBM i 7.3."
In summary, Merlin is just the very beginning for enabling modernization.
History of Node.js on a Timeline
Here is an interesting "look back at what exactly what happened to Node.js." Node.js is an asynchronous event-driven JavaScript runtime and is the most effective when building scalable network applications. Node.js is free of locks, so there's no chance to dead-lock any process. "…so far, from the point where it was born until Today."
---
Learning
"Steve Will, the long-time IBM i chief architect and now chief technology officer and distinguished engineer for IBM i" is offering you the chance to ask him anything.
"Will is going to be one of the several speakers taking part in a live webcast" put together by Able One.
They have "put together a program that goes over the new IBM i 7.5 release announced on May 3 and the long-anticipated Power10 entry and midrange servers announced on July 12 that are suitable for the vast majority of the Power Systems-IBM i installed base.
---
Security
IBM i "security researchers, who disclosed a series of new vulnerabilities across IBM i products over the past couple of weeks, including IBM i Merlin, WAS Liberty, OpenSSL, the Digital Certificate Manager, and Zlib."
---
Join
Sign up for Talsco Weekly to get the latest news, insight and job openings for the IBM i professional.
---
Contact us
If you are an RPG programmer looking to explore opportunities or a client who is looking for a talented IBM i professional, please contact us. We look forward to assisting you.
---
Share
Do you know of someone who could benefit from Talsco Weekly? If so, please use the social media buttons to spread the word. Thank you!