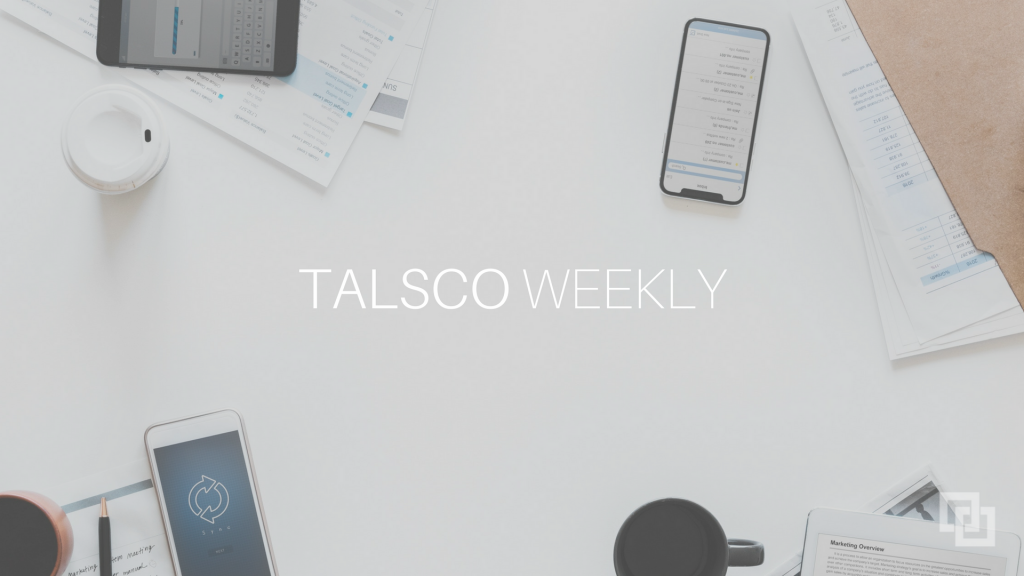 Welcome to another edition of Talsco Weekly
Here is what is going on the IBM i community this past week.
News:  

An IBM i option for modernization and Google is more than search

Career: 

Track your time and you better know the answers to these interview questions

Development:  

ILEditor, scrum, and RAD

Leadership:  

Be a risky leader and the real cost of ERP systems

Modernization:  

Technology migration and Digital Transformation
---
News
Low code approach to modernization
"IBM i shops have lots of options when it comes to application modernization. At one end of the spectrum are screen-scraper tools, which can provide a quick fix for shops tired with the 5250 interface."  But there are more options when you dig a little deeper.
Google always intended on being an AI company
I find this interesting that Google never intended on being about search.  They have more folks dedicated towards AI than most but IBM and other industry giants are not far behind.
---
Career
To get the best use of your time, track it
"It's hard to know whether you're using your time efficiently. Even if you're always working hard — and stressed out — are you sure you're spending your time on the right things?"
Don't take a development job without asking these questions
"It's a question every developer should be asking any time they interview – and that every engineering leader should be able to give a clear answer to."
---
Development
Here is an update from Works Of Barry (Liam Allen) and the future of ILEditor.
The purpose of scrum is to get better feedback
Here is a quick read for those of you using or thinking of using scrum. It will give you some insight on ways to use it better.
Demystifying RAD (Rapid Application Development)
"Although conceived back in the 1980s, the profile of rapid application development (RAD) is on the rise right now as a facilitating methodology for digital transformation in 2018 and beyond."  I am curious to see if we will start seeing more of this in the IBM i community.
---
Leadership
Unsafe thinking leads to innovation
"Playing it safe no longer gets results in the business world, especially with so many startups seeking to disrupt the status quo. But innovative thinking can be tough for those unaccustomed to stepping outside their comfort zones."  I see this time and time again.  The IT departments that are thriving are the ones with leadership that think differently.  They understand that not taking risks is actually riskier.
ERP systems are complex, hard to buy and expensive to implement
Enterprise software is a $400 billion dollar market "Despite that impact, enterprise software is still a challenge to evaluate, buy, implement, support, and get rid of."  Maybe this is a sign that modernizing your existing systems is a better option?
---
Modernization
Technology migration projects: risk vs reason
A great article that sheds light on the digital age we live in.  While new organizations can be a technology company out of the gate more established companies don't have that luxury.  "So in a rush to transform, upgrade existing infrastructure and or carry out major application migration projects from legacy systems to more modern infrastructure, it can be easy to 'cut corners' by not fully appreciating the impact or risks associated with that decision."
Digital transformation must be measurable
"Digital transformation benefits are for sale by the truckload from consultants, software vendors and analysts to content management and marketing teams. But tread carefully. The tab for remaking processes and the concomitant ripping and replacing of IT platforms and legacy applications can cripple a company when big projects fail."
---
Security
Could understanding technical debt be the key to security?
Technical debt has been building for decades.  "If businesses start understanding that security trade-offs are debt that needs to be serviced, they stand a much better chance of addressing this imbalance in the long-term, for the benefit of the entire organization."
---
Join
Sign up for Talsco Weekly to get the latest news, insight and job openings for the IBM i professional.
---
Contact us
If you are an RPG programmer looking to explore opportunities or a client who is looking for a talented IBM i professional, please contact us. We look forward to assisting you.
---
Share
Do you know of someone who could benefit from Talsco Weekly? If so, please use the social media buttons to spread the word. Thank you!