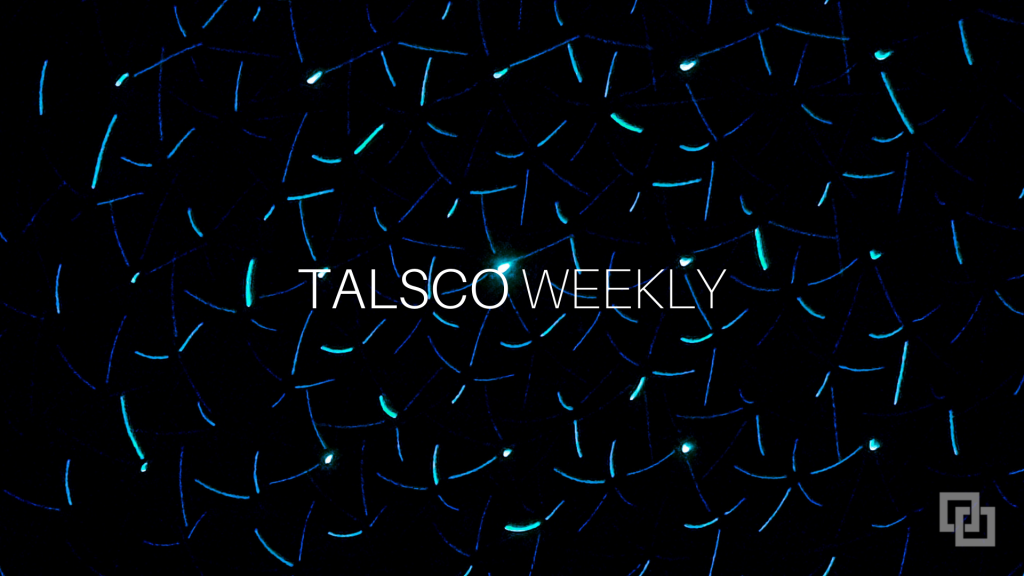 ---
Welcome to this week's edition of Talsco Weekly
News:  IBM is tops the patent list in 2018.  Patents in AI, Cloud Computing and Blockchain signal IBM's path forward.
AI:  Amazon and their focus on AI.  How to make AI successful in the enterprise.
Career:  Innovative ways to train new talent.  Tips on writing a cover letter.
Development:  8 alternatives to Javascript and learn how to speed up your PHP command-line scripts.
Trends:  Security and the Cloud.  Scouting new technology is one thing, knowing how to use it is another.
---
News
IBM Earns Record 9,100 Patents in 2018, Tops U.S. Patent List
There is an obvious correlation between the number of patents IBM filed in 2018 and the direction they are looking to go in the future.
nearly half of the 2018 patents relate to pioneering advancements in AI, cloud computing, security, blockchain and quantum computing.
AI accounted for 1,600 patents which is more than any other company in 2018.  A recent Forbes article highlights one example of this in the case of Delta Airline, where you can "AI to manage data and help make predictions that enhance both the operations and the customer experience".
IBM and MineHub join to build Blockchain-based platform
This article touches on the above press release regarding IBM patents.  Recently MineHub and IBM announced their partnership that will use "blockchain technology to help improve operational efficiencies, logistics and financing and reduce costs in the high-value mineral concentrates supply chain — from mine to end buyer."
The use of blockchain will remove the manual paper-based processes of the past to build in transparency within the supply chain.
MineHub is a technology company that develops cost-saving applications for the mining and metals industry.  It is built on the Hyperledger Blockchain Platform.
---
AI
MARS (Machine Learning, Automation, Robotics and Space ) is an AI-focused conference that in the past has been an invite-only conference where Jeff Bezos, Founder of Amazon was able to get exposure to the brightest minds.  The conference has been rebranded to re:MARS,  and is open to the public.
IBM has it's own version of this.  Think 2019 will be held in San Francisco, CA on February 12 – 15.  There will be over 2000 sessions ranging from keynotes to labs, technical training and more.
How to Set Up an AI Center of Excellence
"Artificial intelligence is one of the most powerful technologies for reshaping business in decades. It has the ability to optimize many processes throughout organizations and is already the engine behind some of the world's most valuable platform businesses."
Why is this important?  It gives an overview of the steps involved of how to introduce AI teams into the enterprise.  Many organizations randomly implement new technology without a plan or oversight.  It can quickly get out of control.  This article touches covers some best practices on how to implement AI into your organization.
---
Career
How this woman went from a $20,000 a year Trader Joe's job to a well-paid programmer at a startup in San Francisco
Here is an interesting story about a college grad who was not working in IT but ended up as a software engineer.  The part that I find most interesting, is how the market is providing alternatives "to a traditional four-year computer science degree."  This one "involves two 9-months blocks of study around a six-month internship. It's geared towards people who know nothing about programming."
Two lessons here:  Traditional education paths are no longer the only way to find and recruit talent.  And learning new programming languages is not as hard as you think.
8 tips on how to write a cover letter
"Before you can win that new IT job, you must get in the door. Here's how to quickly and confidently make your case in an IT cover letter – and land an interview."
---
Development
8 Javascript alternatives for web developers to consider
"When it comes to front-end development, hardly any programmer can do without JavaScript, which is a universal solution for web interfaces creation. Moreover, it is often treated as the only solution of this kind. However, there some alternatives to JavaScript that do their job rather well."
I recently spoke to a Software Architect who is well versed in back-end and front-end development.  When I asked what is one piece of technology you are excited about he said, TypeScript.  It's an alternative to Javascript that starts with the same syntax as does Javascript and is becoming more and more popular.
For IBM i shops where you have a mix of RPG code and PHP, staying up to date on the latest tips and techniques is important.  Here is one for PHP Developers.
"While PHP runs quickly via the Apache web server, command-line PHP scripts (run from PASE directly or via CL or RPG) have a lag on start-up." In this article from IT Jungle, Alan Seiden, shows "how to speed up PHP when called from the command line."
---
Trends
Security is a Critical Factor in Determining where Enterprises Will Run Their Application
Some 71% of CISOs rank data security and compliance as the most important factor when choosing where to put their application workloads, according to a recent survey by Nutanix.
How Big Companies Should Scout New Technologies
"Most companies, it turns out, spend more time and money scouting trends and emerging technologies than they do in sharing the results of that scouting work with others in their organization."
I see this happening in the IBM i market.  IBM i Developers and IT Leadership attend IBM Think, COMMON or local user groups where incredible insight is shared along with related training.  Yet, when the get back to the office much of the information is not shared or embraced by the organization.
The hard part is taking action.  This article offers some good advice on how to help organizations connect the dots.
---
Join
Sign up for Talsco Weekly to get the latest news, insight and job openings for the IBM i professional.
---
Contact us
If you are an RPG programmer looking to explore opportunities or a client who is looking for a talented IBM i professional, please contact us. We look forward to assisting you.
---
Share
Do you know of someone who could benefit from Talsco Weekly? If so, please use the social media buttons to spread the word. Thank you!