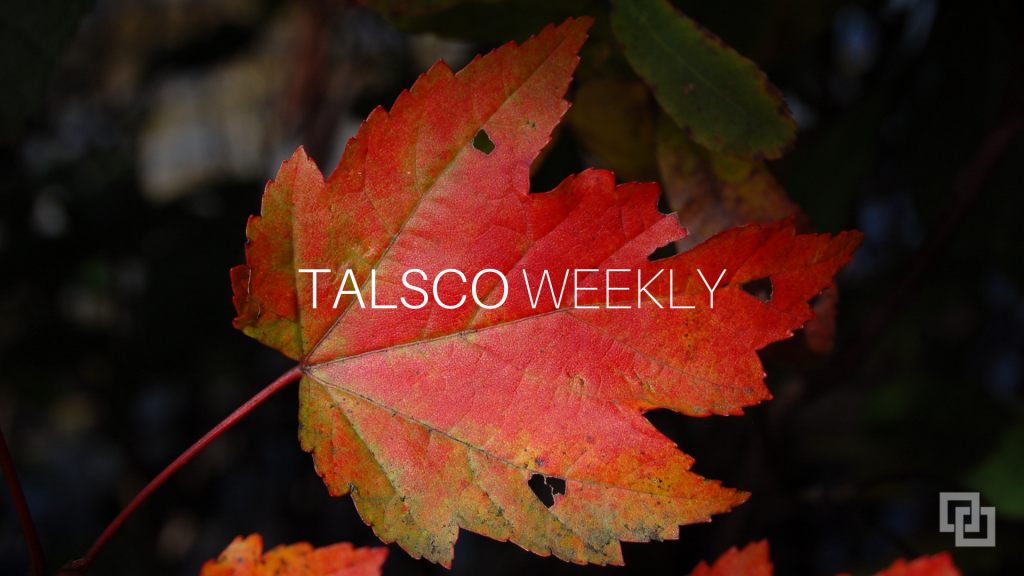 Open Source ERP Developed in free-form RPG introduced at COMMON
Great things happen when you have a COMMON belief in building an open source ERP for the IBM i.
Alex Woodie, from ITJungle, unveils the news in his October 15th article.
"An open source ERP package written in free-form RPG. Dubbed intERPprise, the software project is intended to harness core IBM i strengths – its integrated database and ILE environment – but above all, provide an example for what modern and native open source software can look like on IBM i."
How cool is that?
The intERPrise Project is a symbol of the strength and collaboration that exists within the IBM i community.
It will be exciting to see where this takes us in the future.
---
Welcome to another edition of Talsco Weekly
Here is what is happening in and around the IBM i community this week.
News:

 IBM is leading through disruption and tech is changing the insurance industry.

Career:

 Salary survey for 2018 & A Site Reliability Engineer career path.

ERP:

 Update on Infor's ERP suite and an intro to ION and Birst.

Leadership:

 5 imperatives for CIO success & A handshake is the key to a successful negotiation.

Modernization:

A four-phased approach to modernize & don't overlook DevSecOps as you modernize.

Learning:

Python training is available from The Seiden Group.

Trends:

 Predications for 2019 and Facial Recognition is here.
---
News
IBM's Ginni Rometty on Leading through disruption
Here is a short article that highlights, Ginni Rometty, Chairman and CEO of IBM, thoughts on the lessons she has learned in "turning a ship the size of IBM in the midst of digital disruption."  It shows that she has corrected course along the way.
Will Technology Make Insurance Obsolete in the Future?
We all know that tech is changing every aspect of our lives.  Here is a fascinating article that will make you think about what our world will look like in the next 5 to 10 years.  We'll be living in sensor driven economy.  "A world where everything is measured all the time." As far as the insurance industry goes,  "we'll start to transition from protecting against damages to preventing them in the first place."
---
Career
IT Salary Survey 2018: How Much Do IT Pros Earn?
This article suggests that IT salaries are on the rise.  Within the IBM i community, we are seeing upwards movement as well.  This, of course, is great news because it shows the value of the IBM i platform.  See how you compare "to the median pay for 12 popular IT job titles."
What is a site reliability engineer and why you should consider this career path
"Are you looking for an interesting and competitive career that allows you to experience first-hand the full power of DevOps—and even go a few steps beyond? A site reliability engineer role might be a great fit."
---
ERP
RPG, Java, And The Future Of Infor's IBM i ERP Suites
Here is an update on previous articles written about Infor's plan for their Infor XA (Mapics), Infor LX (BPCS), and System 21 ERP packages.  Like many ERP vendors, they are in "the midst of a multi-year overhaul of its three RPG-based ERP suites for manufacturers."
Infor also has other products that can help IBM i shops modernize and push forward with digital transformation projects.
Their ION (Intelligent Open Network) product is the middleware that allows for the integration of your enterprise.  Their Birst product is a Business Intelligence and Software Analytics platform that has built-in automation and machine learning technology that will help enterprises leverage Industry 4.0 initiatives.
---
Leadership
5 Imperatives for CIO and Enterprise Success
"Business change is accelerating, and technology is driving the change. To succeed in this dynamic environment, CIOs must implement these five imperatives."  Or you will be left behind.
Shaky Business: How Handshakes Win Negotiations
A handshake before a negotiation can have a surprisingly strong effect on leading to the outcomes you desire. Most of us shake hands when we meet someone for the first time but don't really understand the connection that it makes.  This is an interesting article that goes back into the history of the handshake and what it means in modern society.
---
Modernization
4-phase approach for taking over large, messy IT systems
"Everyone loves building shiny, new systems using the latest technologies and especially the most modern DevOps tools. But that's not the reality for lots of operations teams, especially those running larger systems with millions of users and old, complex infrastructure. It's even worse for teams taking over existing systems as part of company mergers, department consolidation, or changing managed service providers (MSPs). The new team has to come in and hit the ground running while keeping the lights on using a messy system they know nothing about."
DevSecOps: Focus training on 3 key areas
Training teams on how to make DevSecOps work? Change management often leads the priorities, but don't ignore two related factors.
---
Learning
Python Training from Seiden Group
Are you an RPG Developer looking to add another language to your skillset?  Then you might want to take a look at Python.  Python is right up there with PHP as one of the best languages to learn.
The Seiden Group now offers Python training for IBM i developers. Their training covers not only the popular Python language, but all the pieces necessary to succeed on IBM i, including how to use the Python toolkit to call RPG and COBOL business logic as well as best practices for accessing Db2 and SQL from web applications with Python.
The IBM i continues to transform application development on the IBM i by leveraging the latest in open source languages.  Check out the full list of options.
---
Trends
Top Strategic Predictions for 2019
Everything from AI, Blockchain, Cloud and Security breaches are in the news.  It's no surprise that all of these trends will continue into 2019 and beyond.  The question is how will they play out.  This article give some interesting predictions.
The Coming Wave of Regulation over Facial Recognition
More applications utilizing facial recognition are inevitable in the public and private sectors, and those will generate plenty of new rules and regulations.
---
Join
Sign up for Talsco Weekly to get the latest news, insight and job openings for the IBM i professional.
---
Contact us
If you are an RPG programmer looking to explore opportunities or a client who is looking for a talented IBM i professional, please contact us. We look forward to assisting you.
---
Share
Do you know of someone who could benefit from Talsco Weekly? If so, please use the social media buttons to spread the word. Thank you!