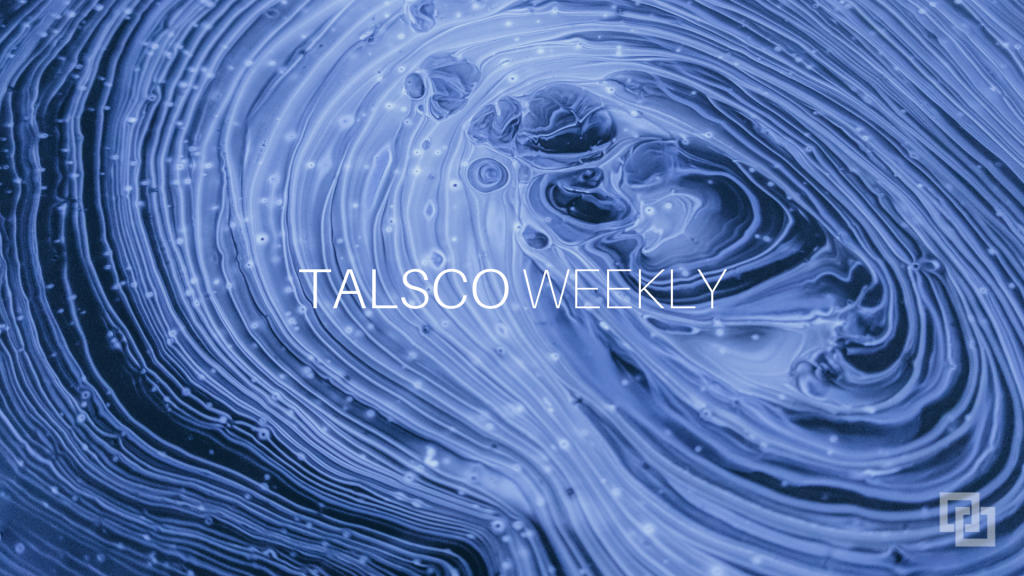 Welcome to another edition of Talsco Weekly
AI, Data and Cloud continue to be topics of conversation in and around the community.  The challenge is understanding how it all fits together.
In this weeks edition you will find articles with links about the following:
News:

  Cloud and Data are better with AI & the mainframe is the original cloud.

Career:

  Great communication secrets you must know.

Development:

  Domino is back and Low-Code development platforms.

Leadership:

  Helping set career goals and Time to Forget the Org Chart.
Modernization:  5 lessons learned that will help you modernize.

Trends:

  Digital Transformation in 2019.
---
News
IBM's Cloud Private for Data helps companies win with AI
If Data and AI, and how you can solve problems interest you, watch this short interview with Daniel Hernandez, vice president of IBM Analytics.  He gives a good overview of what is coming from IBM.  "OpenShift, IBM Cloud Private and IBM Cloud Private for Data are gaining momentum." Find out how it applies to your company.
Your Mainframe is the original cloud
What's old is new again.  "Mainframes were doing the things that the cloud does long before anyone was talking about the cloud".  Mainframes, and in our case the IBM i, has been providing some of the same benefits that the cloud offers.  The cloud is appealing because of its scalability, availability, and agility.  Much of the same reasons we have depended on the IBM i.
IBM and Microsoft are Upgrading Walmart's Digital Supply Chain
Microsoft is helping Walmart with Azure which is known as one of the most preferred cloud infrastructure services.  IBM is helping because they are "the market leader in enterprise blockchain solutions."
---
Career
The Secret to Great Communication
"Why has the importance of good communication skills come into such sharp focus in the last few years?" Because being able to communicate well is the difference between having a good career and a great one.
As the IBM i market is modernizing, the natural art of persuasion is one of the most important skills to have. "Great persuaders are irresistible throughout all of history. But at no time in our historical record have interpersonal communication skills been as important as they are today".
This is a 20-minute podcast that everyone should listen to. It offers a three-part formula for communication success.
---
Development
Domino on the IBM i is on a comeback
We have talked about low-code development before.  Domino 10 is here.  Some say it's "going to blow the doors away for low-code development." Check out what Domino consultant Kim Greene, has to say about in her interview with IT Jungle.
What you need to know about Low-Code Development Platforms
Low-Code development is nothing new, in-fact Lansa is a low-code solution for the IBM i platform.  Keep in mind, "low-code won't make coding obsolete. And it's not a magic solution to your software problems."  But it is something for organizations to consider as they push forward with their modernization and digital transformation projects.
---
Leadership
Help a Direct Report who Does not have clear career goals
"As a manager, helping your direct reports achieve their career goals is part of your job. But what do you do if they aren't sure what those goals are?"  Do you have clear career goals?
Is it time to retire the Org Chart?
An organization comes in many forms and every organization exists to solve a problem.  We need to rethink the workplace in the digital age because a shift is taking place.  Automation is changing the organization at the machine level and the introduction of algorithms are changing the workplace.  So, how do you design the organization for the future?  How do you create a shared view of the organization that will help achieve your goals?  This is just some of what is covered in this short interview with Phanish Puranam, the author of The Microstructure of Organizations.
---
Modernization
5 Ways to Approach Digital Transformation without Downtime
"One of the most significant barriers to digital modernization is the challenge to replace systems while maintaining business continuity. Many teams choose to maintain the status quo, even if it means increasing management complexity and amassing technical debt because the impact from downtime is too substantial."  The questions is, what if you could modernize with minimal impact on the business?  "Essentially rebuild the airplane while it is in flight".  This short article covers the five lessons learned that can be applied to modernization.
---
Trends
The biggest insight and trends in Digital Transformation for 2019
"We've also learned along the way that digital change is often more about the people involved and affected by it than it is about the technology." Here is a great visual on what Digital Transformation will look like in 2019.
---
Join
Sign up for Talsco Weekly to get the latest news, insight and job openings for the IBM i professional.
---
Contact us
If you are an RPG programmer looking to explore opportunities or a client who is looking for a talented IBM i professional, please contact us. We look forward to assisting you.
---
Share
Do you know of someone who could benefit from Talsco Weekly? If so, please use the social media buttons to spread the word. Thank you!