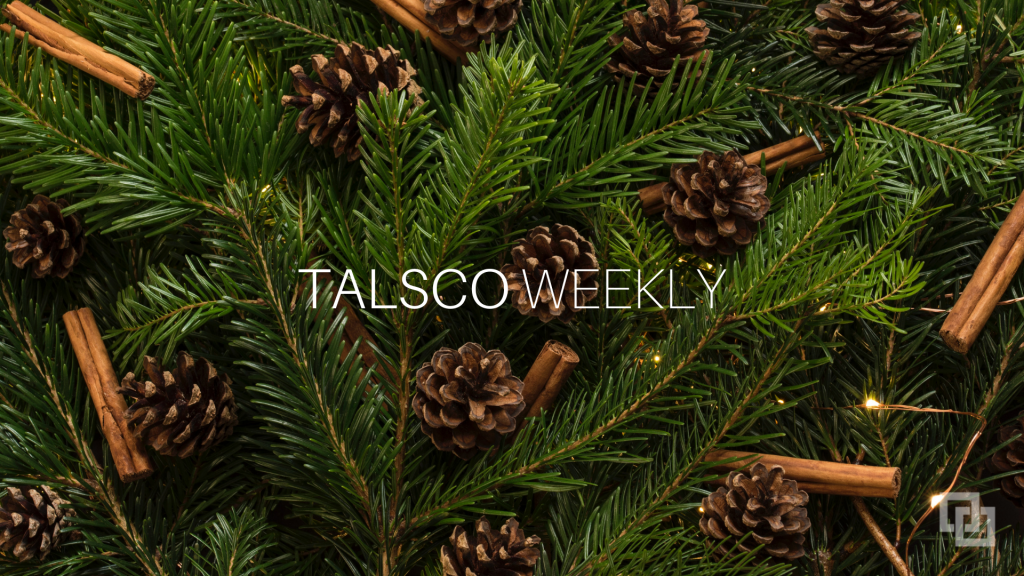 ---
Happy Holidays to the IBM i community!
It's been a great year for the IBM i community.  We appreciate your readership and hope you enjoy time with friends and family this holiday season.
We have some exciting things planned for 2019.  We can't wait to share them with you.
On to this weeks issue.
---
Welcome to another edition of Talsco Weekly.
News:  Major companies being hacked and big tech companies are expanding to other cities.
Career:  IBM and Kronos explore AI and 15 tips to become a better team player.
Development:  Python gets a new governance model and do you really need a web app.
Modernization:  Target and how they focused on data.
Open source:  DevOps reading list and the future role of Open source for the IBM i.
Trends:  IT trends to watch in 2019 and the meaning of Edge and Cloud computing.
---
News
China hacked HPE, IBM and then attacked clients
Beware of Cloudhopper.  "International Business Machines Corp said it had no evidence that sensitive corporate data had been compromised."
Amazon, Apple and others are expanding out of major tech cities — but mostly to other major tech cities
It's interesting reading this article and thinking about the challenges the tech companies face in attracting talent.  We talk about the shortage of talent in the IBM i market.  How does it compair to what the tech companies face?
---
Career
IBM and Kronos explore next generation of Artificial Intelligence
Listen to this podcast to discover how Kronos and IBM have unlocked "the power of artificial intelligence (AI) to simplify the daily lives of managers and employees, especially in the hourly workforce."  Kronos is used by over 40 milllion people every day.
15 simple tips to become a better team player at work
We hear the term 'team player' used often when describing our coworkers.  "Be professional can become a better co-worker and team player at the office"
---
Development
Python programming language gets new governance model
The Python Software Foundation has settled on a new governance model for the programming language Python. The decision to come up with a new model was made after Python creator and chief Guido van Rossum stepped down as the BDFL. The new governance model will rely on a five-person steering council to establish standard practices.
Does your Business Really Need a Mobile App?
"Or more importantly: do you really want to burn your money on creating apps no one will use? Try creating PWA's instead!"
---
Modernization
On Target: Rethinking the Retail Website
Should IBM i shops take a lesson from Target?  Target "survived and even thrived in the apocalyptic retail landscape. What's its secret?"  The focus on data.  To do this you need to hire data experts, experiement and execute quickly, deliver mobile response in milliseconds, know how to measure success, ask data related questions, ask your managers to ask data related questions and take a calculated approach to using data.
---
Open source
10 books for your DevOps reading wishlist
The concept of DevOps is new to the IBM i community.  So, it might be hard to know where to start.  "Follow this reading wishlist to find the best books on DevOps for practical thinkers. You'll learn from authors who have addressed real-life problems and contributed to the innovation process."
Open Source Is the Future, So Where Does IBM i Fit In?
"The IBM i server reached a milestone this year when it turned 3o years old."  If you have ever wondered what open source is and how it has come to the IBM i platform this article does a great job of summarizing the past, present and future of how it fits into the IBM i ecosystem of products.  It is a MUST read article because it askes a very important question.
---
Trends
5 IT job trends to watch in 2019
"Let's explore the key IT job trends that IT leaders and hiring managers should be thinking about – because success starts with talent."
Edge to core to Cloud: Waht does this all mean?
"Every organization is facing their own Digital Transformation as they attempt to stay ahead of the competition, or worse, just keep up. Each new opportunity, whether embracing machine learning, IoT, or a cloud migration, seems to bring new development, deployment, and management models."  This article does a good job of bring all of this into perspective.
---
Join
Sign up for Talsco Weekly to get the latest news, insight and job openings for the IBM i professional.
---
Contact
If you are an RPG programmer looking to explore opportunities or a client who is looking for a talented IBM i professional, please contact us. We look forward to assisting you.
---
Share
Do you know of someone who could benefit from Talsco Weekly? If so, please use the social media buttons to spread the word. Thank you!